I first got to know about ASSET Uganda from the guilt president of Busitema University 2013-2014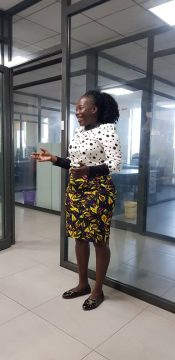 I was struggling with tuition and sometimes would pay at the very last minutes. When I told her about my situation, she didn't hesitate to help me when opportunity presented itself. On one afternoon she came to my room and told me to try applying to ASSET Uganda an organization that helps girls by paying for them tuition fees and when I searched online, I found they were recruiting and so started on the process of online application that's when it all began.
I didn't really get through at first, I remember miss Alex calling me to inform me that I didn't make it through because the tuition was very high since I was in the Engineering college and they had never paid anyone in engineering before, I was devastated and she could hear from my voice, however she told me she would try her level best to see if they can fix me on special arrangement. A week passed by and I took the initiative to call her that's when she told me that they can only pay for my tuition, whereas accommodation and functional fees would be on my mum and when I heard that I was very glad and so was my mother. I immediately told her it was ok and without going through any form of interviews like my other colleagues went through I found myself on a partial scholarship, which was a very big blessing for me, one that I can't repay.
With tuition fully catered for by asset, I became stable in my academics and for the two and half years my grades was far much better than the previous years. The asset family has always been a family that is loving and caring, the interactions and career guidance that was organized at Hotel Africana was the start for me to dream big and always value myself despites the odds. One just needs a trigger to see life in a different perspective to be able to change and dream.
I studied from Busitema University Main campus and pursued a Bachelor of Science degree in water resources engineering.
Immediately after campus I was fortunate enough to get a job as a research assistant with Kitgum district local government in 2016 and when the contract expired, I struggled to get another job for about 6 month however in the 6 month I went back to do a short course in GIS (Geographical Information System) with CentMax engineering company before I got a job in Ministry of Water and Environment as an Engineer. This opened for me windows of opportunity to start my own company with other two founder called RIOMPA (Hydrological services Uganda) dealing in surface and groundwater assessments.