By Sophie Nabukenya
Enrolling for higher education is one of the greatest accomplishments in Uganda. However, for many youngsters and their families this remains a dream rather than a reality as many parents cannot afford amidst poverty and competing needs. Sadly those who manage to enroll often times dropout even before completing a semester due to failure to pay tuition fees, I am not an exemption.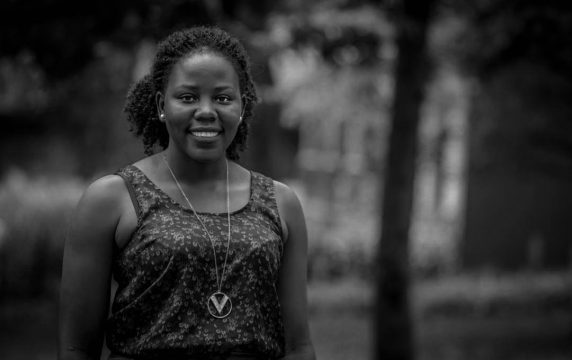 Growing up in a single headed and poverty infested household, I witnessed my mother work tooth and nail to ensure that my four siblings and I had a better life.  However the proceeds my mother's clothes business were only enough to feed the family. I nearly dropped out of school at the age of 12 after completion of my primary Leaving exams, had it not been well-wishers I couldn't complete secondary education. I worked so hard during my senior six holiday vacation to secure money for my admission at the university. However, despite the fact that I was admitted, still could afford to pay for my University education and neither did my mother. I then resorted to telling everyone I came across how badly I need to study and among the many I told, I got one who knew about the ASSET higher education program. He advised to go and apply online, something I did without hesitation.
Fortunately, after a rigorous selection process, I was among the few that were awarded the ASSET scholarship. The scholarship turned my life around, without this financial aid, I would have missed out on the most influential years of my life.  My experience at Makerere University opened many doors and gave me the opportunity to meet incredible people from different backgrounds and cultures. During the period I was at the University, I was elected as the school president at the school of women and gender studies, in my third year I was retained in the coordination department as a research assistant. This was all because of the ASSET leadership trainings, where we were encouraged to take up leadership positions. After my graduation with a Bachelors of Arts in Social Sciences at Makerere University, I felt strongly that I needed to use my education to empower more girls and young women in my community who didn't get the opportunity that I got. Because I believe it costs nothing for a candle to light another, I gathered a group of school dropout, young mothers and expectant teenage girls, started teaching them beading as well as sharing and listening to their stories . During these sessions that were held once in a week, we crafted not only products, but also our lives, emotions and futures to betterment. Today, over 90 girls have benefited from this initiative.  
About 4 months after my graduation, on my way to the university one morning I saw a scholarship advert pinned up, I applied for it despite my limited experience since they needed someone who had worked for at least two years.
My experience of giving back to the community helped me stand out among thousands of applicants, I was one of the two Ugandans who were awarded a scholarship to study a postgraduate diploma in Iceland and I was the youngest scholar the scholarship has ever taken in among their 24 beneficiary countries.
During my stay in Iceland at the University of Iceland, I was selected to represent my fellow students together with two other fellows to meet the president of Iceland to deliberate on key issues affecting young people in Africa in General and Uganda in particular. Since then, the rest is history.
I have been invited to different forums locally, nationally, regionally and internationally to participate and speak about issues related affecting young people. These include;
The 2nd Pan African Youth Forum at the African Union, Headquarters in Ethiopia in February 2019.
The NASSER Leadership fellowship by Egypt government in June 2019.
Global Girls Summit in Belgium in October 2018
Global Girls Summit in Ghana in November 2018
Young Influencers Meetup in UK In July 2018
Family Planning 2020 Conference in UK in 2017
I have also featured on various local and international print and electronic media platform such as, BBC World Service, The UK Telegraph , CNN, FP2020, Marie Claire Magazine, and UNICEF Voices of Youth, local Media Houses in Belgium, Iceland and Finland to mention but a few. (https://www.demorgen.be/nieuws/jonge-afrikaanse-vrouwen-schudden-hun-politici-wakker~b530c791/),(https://graziadaily.co.uk/life/real-life/women-activists-africa/), http://www.telegraph.co.uk/women/because-i-am-a-girl/better-sex-education-uganda/ ,( http://www.bbc.co.uk/programmes/p057ppld).