Did you know th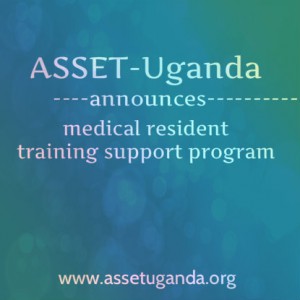 at medical residents (physicians in training) in Uganda have to pay tuition? This is unlike residents in the U.S. who get paid a salary for their work during their post-graduate training years. In Uganda, medical school graduates complete a one-year internship with rotations in multiple specialties after which they can practice as a general practitioner making an average monthly salary of $480 USD. Those who desire further or specialized training may then enter a residency training program. However, the loss of salary and requirement to pay tuition deter many young doctors from furthering their training, despite great need within Uganda.
ASSET is thrilled to begin supporting medical resident education in Uganda, as this fits nicely with our existing vision of training a new generation of African leaders while also addressing the severe health care worker shortage in Uganda. The first medical resident to be supported through ASSET is a female family medicine resident at Makerere University College of Health Sciences in Kampala.
ASSET medical resident scholars will be involved in the ASSET scholars network and help facilitate leadership training sessions for our other students. They will also be matched with a volunteer physician mentor to enhance their research, writing and leadership skills. To this end, we hope to help these young doctors not only gain additional knowledge and skills in their specialty, but also to become skillful leaders in their field, with the potential to impact the health and well-being of millions.
To address the issue of "brain drain" of qualified doctors out of high-need areas within Uganda, medical residents supported through ASSET will sign a Memorandum of Understanding stipulating their commitment to work in a community of need within Uganda for at least one year for each year of sponsorship he/she receives through ASSET.
Click here to donate to ASSET-Uganda and help us train a new generation of physicians. Or for questions about how you can support the training of a young Ugandan physician, email us at admin@assetuganda.org.